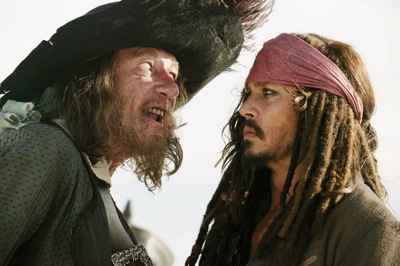 Recently, Mega movie producer Jerry Bruckheimer (National Treasure, G-Force) spoke with Comingsoon.net about some of his upcoming projects and in the spirit of Hollywood Tetralogy he said that a Pirates 4 is the priority right now for Disney. "A beloved character and Johnny's (Johnny Depp) really excited about coming back to Captain Jack. He certainly is interested in Tonto, but Disney's priority is to get 'Pirates' made first. You never know what's going to happen, but they would like it." Bruckheimer also mentioned that the original writers Terry Rossio and Ted Elliot would be returning as well.
Bruckheimer also talked about The Lone Ranger, with only Johnny Depp attached. Bruckheimer said once they get a director they will push ahead with the film.
I can't say I am excited for this news but I am not surprised. Pirates is a huge money maker for everyone involved with it. I personally think that the third movie was OK but they should have stopped at the first one. At any rate we will see where this goes.
Are you excited for a new Pirates movie?