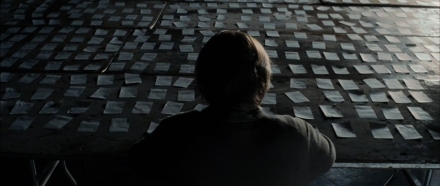 I really wanted to see this film at TIFF, but didn't have a chance to. I love Kaufman and Hoffman so, after this fantastic trailer, this is shaping up to be one of my most anticipated of the year.
'Synedoche New York' Theatrical Trailer
@
Yahoo! Video
Official Plot Synopsis: Synecdoche, New York explores nightmares that are all too realistic and human. Its hero, Caden Cotard (Philip Seymour Hoffman) is a 40-year-old local theater director in Schenectady whose life is collapsing around him. His marriage to his artist wife Adele (Catherine Keener) is on its last legs while at the same time he is stricken with a series of increasingly catastrophic illnesses. He is afraid he will die any moment having never accomplished anything important in his life. When he receives a MacArthur Grant, he decides to use the windfall to stage a massive theater piece in NYC, determined to create The Great Piece of Art and leave something as true, honest and heartbreaking as life itself. It's one of those rare films that deals with death, excruciating illness, gross bodily fluids, despair, heartbreak and bad sex but can still bring a twinkle to the eye.
You can watch the trailer in High Definition on Yahoo. Synecdoche, New York hits theaters on October 24th 2008.